Buy Tickets for Programs
Below you'll find a pricing table and tools to make reservations for our regularly scheduled public programs in West Texas (Special Viewing Night programs are reserved separately). If you've not yet done so, please look through the information about the Observatory's remote location, our daily Solar Viewings and Guided Tours as well as our thrice-weekly public Twilight Programs and Star Parties. Please check out the information regarding our 107-inch Telescope Special Viewing Nights, 82-inch Telescope Special Viewing Nights and 36-inch Telescope Special Viewing Nights before signing up for any of these activities. Multiple programs can be reserved by using the reservation system's tools. Please be sure to carefully check the date of the programs you're reserving as well as the number of people for whom you're making reservations. The system will default to 1 adult if no information is entered.
If you are a K-12 teacher and would like to submit a request for an on-site program at our West Texas facility, please visit the Student Field Experience web page.
Spring Break 2014: For those visiting during the week of March 8th - 15th (the week most Texas school systems are on Spring Break in 2014) please see our pages specifically dedicated to programs during that period.
Programs and Prices


Adults
Military
Senior
UT
Children
6-12
Children
(under 6)
Solar Viewing & Tour (Daytime or Day Pass)
$8
$7
$7
free
Solar Viewing Only
$5
$4
$4
free
Twilight Program
$5/$6
$5/$6
$5/$6
free
Star Party
$12
$10
$8
free
Other Programs
Prices Vary
Prices via online reservations only - prices are higher for passes purchased at the door

Volume Discounts
We offer group discounts for Solar Viewings, Tours, and Star Party passes (available via online reservations only).
Buy 5-9 passes — 50 cents off every pass
Buy 10-19 passes — 75 cents off every pass
Buy 20 or more passes —$1 off every pass
No group discounts are available for Twilight or Special Viewing Night passes. Please include all members of your party in your tour reservation so we can get an accurate head count. Daytime, Twilight, and Star Party program passes are refundable up to one week prior to the program after which rescheduling will be offered ($5 administrative fee applies). Please email or call us (432-426-3640, then zero at the message) with your cancellation or reschedule request. Missed programs will not be refunded or rescheduled. Contact us for more information or to let us know if you have special needs.
Please bring a copy of your online receipt to pick up your passes when checking in at the Visitors Center. If you don't have access to a printer or if you prefer to go more "green", please at least make note of the confirmation code you'll receive after clicking "Book" in case your reservations need to be looked up on our system. Passes will be under your last name at the Information Desk.
Be sure to click on the "Book" button on the final reservations page as your final step in making your reservation. Failure to click the "Book" button will result in no reservations being made.
---
For those planning to join our Star Party on Friday, May 2nd, 2014, please be aware that we are expecting a group of approximately 250 scouts and leaders at that program. Please consider this when making your plans.
---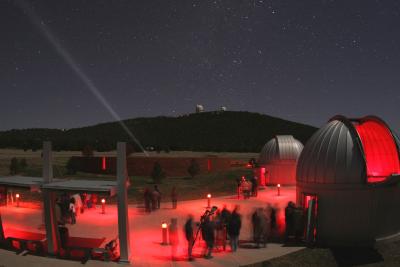 Visitors enjoying a star party at the Frank N. Bash Visitors Center at McDonald Observatory.