Time Travels of the 82-inch Telescope Model
2010s
Last week, the more than 75-year-old model of the 82-inch telescope arrived at the Bullock Texas State History Museum in Austin, Texas. This morning I got to be there when they opened the crate containing it. I felt a little like Indiana Jones in the "Raiders of the Lost Ark" movie to get to be a part of this ceremony. The model is on loan from the Western Reserve Historical Society and it came all the way from Cleveland, Ohio. Twenty-five years ago, the model was exhibited at the Museum of the Big Bend at Sul Ross State University in Alpine in association with McDonald Observatory's 50th anniversary.
Some people really wanted to see this model again and others have never seen it. This caused our staff member Bill Wren to track it down. It had moved from the Cleveland Museum of Natural History over to the Western Reserve Historical Society, and it took him a while to find it. Then, over 50 people donated to our campaign to bring the model back to Texas and we are grateful to all of them. We expected it to be here sooner but the record-setting ice and snow in the Midwest delayed its departure from Cleveland.
The model will be part of the Texas State History Museum's exhibit entitled McDonald Observatory: 75 Years of Stargazing, which opens on May 1 and runs through June 30, 2014. Then it will take the 450-mile trek to the Observatory's visitors center near Fort Davis, Texas and be on display indefinitely.
If you open the little little trap doors on the side of the model, you can see into an area that was once the astronomer's quarters. Astronomers no longer sleep in the 82-inch dome. That was something they did before they build the Astronomer's Lodge (Long House or TQ for those in the know) and other housing. Still, the musty smell inside the crate tells me that the spirits of the model builders and the Warner & Swasey Company, that built the telescope, live on.
I was awakened from this nostalgic experience this morning with a fire drill at the Museum — not nearly as exciting as the scene in the movie when the spirits of the Ark kill everyone who is watching it being opened. Nonetheless, it was fun to time travel back to the 1930s and what it must have been like to be involved in the creation of the great 82-inch Telescope and its model.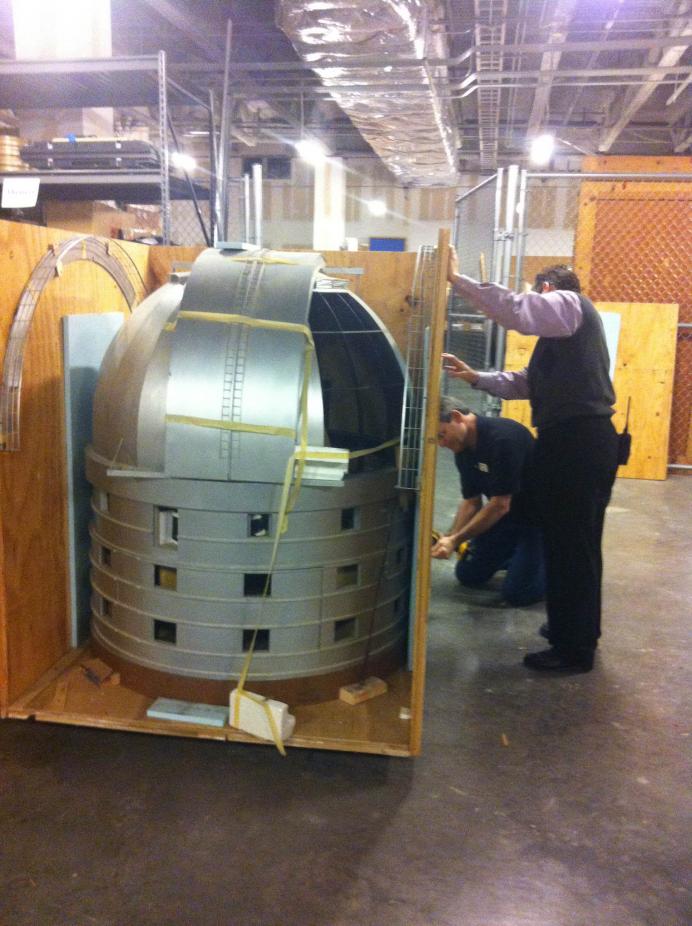 Bookmark or share this page