Special Viewing Nights
Looking for a different telescope experience from what's offered at our regular Tuesday, Friday, and Saturday evening public Star Parties? We offer more exclusive special viewing programs on our 107", 82", and 36" research telescopes throughout the year.
Viewing Night on the 107"
The Viewing Night on the 107" is designed to give you insight into the tools and methods of astronomical research. You'll have contact with a professional researcher and will look through the 107" telescope at up to three objects. This program may not be suitable for children under ten. All dates for 2014 have been posted. Dates for 2015 will likely be posted in early September 2014.
82" Special Viewing Night
The 82" Special Viewing Night is back and it's better than ever! After extensive upgrades to the 82" Telescope such as automated pointing and a brand new focal reducing system, the original McDonald telescope .. the 2.1m Otto Struve .. is, arguably, one of the largest and finest telescopes in the world through which routine viewing is allowed. Come and experience this unique program yourself! This program may not be suitable for children under ten. New dates for April (18, 19, & 20) and July (17 & 20) have been posted. We did not receive viewing dates in either May or June 2014. Dates for August-November will be posted in July.
Viewing Night on the 36"
Viewing Night on the 36" is our most casual special viewing program. Not only will you get fabulous views through a large telescope, but you'll also have more opportunity to marvel at our dark skies since we won't be in a large dome that obscures most of the sky. Best of all, since this telescope isn't used as much for research as are the 107" and 82" telescopes, we have more access for a wide variety of special programs. With late hours and dark conditions, this program is not suitable for children under ten. New dates for April-July have been posted.
Special 36" "Planet-fest" programs on May 2, 3, 5, & 6 - View the Moon, Jupiter, Mars, & Saturn as well as a number of deep-space targets on these unique programs!
Our public Star Parties, held every Tuesday, Friday, and Saturday, are great for those with young children and don't require reservations (although reservations are encouraged and will save you a few dollars compared to passes purchased upon arrival).
If you're still having trouble deciding, call us at 432-426-3640 and we'll be happy to assist you!
Special Viewing Night program passes are refundable up to two weeks prior to the program after which rescheduling will be offered ($10 administrative fee). Please email or call us (432-426-3640, then zero at the message) with your cancellation or reschedule request. Missed programs will not be refunded or rescheduled. Contact us for more information.
Special Viewing Night (SVN) reservations should be made separately from other reservations to ensure you receive the proper information with your emailed confirmation. SVN reservations may be made at the same time as other program reservations but you may end up not receiving the proper follow-up emails. If you must make only one reservation for all of your programs, add the SVN in which you're interested as the first item in your "shopping cart". If the SVN does not appear as the first item in your "cart", you will NOT receive the proper follow-up information.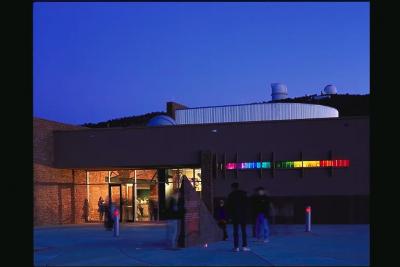 The Frank N. Bash Visitors Center at McDonald Observatory at dusk.