Videoconference Programs
Stay in your classroom and visit McDonald Observatory in the "Live From McDonald Observatory" distance learning program.
These videoconference programs are interactive science learning experiences that take you and your students on a virtual field trip to the Davis Mountains of west Texas. Videoconferences are fully interactive connections between one class (or student club) of up to 35 students.
The content of all videoconferences is aligned with TEKS/TAKS curriculum. We offer many different videoconferences that include engaging experiences such as: take your students on a virtual tour of McDonald Observatory; complete a hands-on activity; see unique science demonstrations; and get live telescopic views sent to your classroom of the Sun, Moon and Venus from telescopes equipped with special video cameras and solar filters.
K-12 educational programs are $100 for 50 minutes unless otherwise noted (contact our education coordinator for more information for other non-K-12 school group pricing). Videoconferences are designed for individual classrooms of 35 students or less. While most videoconferences are recommended for grades 3-12, K-2 students also enjoy the special treat to connect with a real Observatory.
Below is a menu of currently available videoconference titles for grades 3-12 and important documents for each program. The documents for each program include a student sheet, teacher guide, pre- and post- conference assessment, suggestions for pre- and post- activities, and more. Choose which videoconference you would like for your students, and download ALL the documents within that program. Don't forget to download the videoconference evaluation form; we need your teacher input following the program so we can make improvements. To participate, review our registration and videoconference requirements.
Program Descriptions and Downloads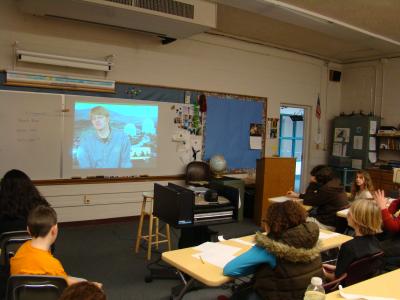 Students participate in a video conference learning session with Observatory staff.