Visit the Observatory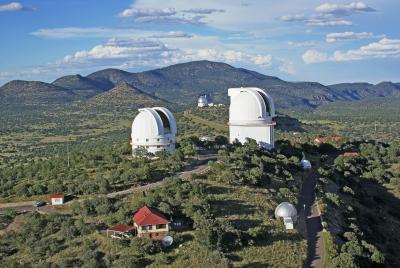 The Frank N. Bash Visitors Center is the public outreach center for McDonald Observatory in West Texas. We aim to inform, educate, and inspire through our public programs, and support the teaching of the science and hobby of astronomy.
The Visitors Center is your check-in point for all public programs. Inside, extensive exhibits explain what astronomers do at the observatory. The Visitors Center also includes a theater and gift shop.
The Visitors Center is open 10 a.m. to 5:30 p.m. Central Time (and additional hours on Star Party nights) everyday except Thanksgiving, Christmas, & New Year's Days. Below, find out more about our public programs, including daily tours of the large research telescopes and our famous thrice-weekly Star Parties under some of the darkest night skies in the continental United States as well as frequent Special Viewing Nights on some of the largest telescopes in the world routinely available for public observational programs. 
---
All programs are subject to capacity limits. To ensure program participation, make advance reservations online.
If you'll be visiting between March 11 - 18, 2017, we have an expanded schedule of programs to accommodate the very large crowds we see during the week of Spring Break in Texas.
The Visitors Center will be closing at 4:00p on December 15th, 24th, & 31st.  The 2:00p programs on Dec. 15th and 11:00a programs on Dec. 16th have been canceled.
---
Please note: the Visitors Center is located 450 miles from Austin!
---