Star Parties and Twilight Programs
Twilight Program
The Twilight Program is an educational program for all ages that takes place 1.5 hours before the Star Party. Two versions of the program are currently offered, depending on the time of year and the Moon phase. Depending on conditions and program content, portions of this program may take place outdoors. Please dress appropriately for the weather. Reservations are strongly encouraged, as this program may sell out. Discounted passes are available via online reservations (see below) until midnight before the program. There is no telescope viewing during the Twilight Programs. Approximate length: 50-60 minutes.
Star Party
The Star Party program (~ 2 hours, depending on weather & crowd size) is fun for the entire family, and is open to everyone. Enjoy night sky constellation tours and views of celestial objects through a number of telescopes (varying in size from a 4-inch giant binocular to a 24-inch Ritchey–Chrétien telescope) in the Rebecca Gale Telescope Park at the Visitors Center.
While the Star Party does not "sell out", we strongly encourage reservations so that we may properly plan for the expected number of program participants. Many are surprised by the large number of visitors who join the Star Parties. Discounted Star Party program passes may be purchased via our online system up to 12 hours prior to the program start time. After that time, passes must be purchased upon arrival at the higher "at the door" prices.
Dress warmly; most of the program takes place outdoors. In the event of rain, significant clouds, or high winds/dust/humidity, a series of unique indoor presentations will stimulate your interest and curiosity; refunds due to inclement weather are not available.
During Daylight Saving Time, the Visitors Center is open 10 a.m.-5:30 p.m., re-opening an hour before the Star Party begins. The Visitors Center is open from 10 a.m. through the end of the Star Party during Standard Time. Star Party start times change with the seasons. Check the calendar for program offerings and start times for the date you plan to visit. Be considerate with your headlights when leaving the Star Party and exit the parking lot to the west.
Note that you can caculate the number of reservations we've received for a particular Star Party by selecting a date and subtracting the number of available passes from the starting point of 1000.
Be sure to click on the "Book" button as your final step in making your reservation. Failure to click the "Book" button will result in no reservations being made.
---
Open House - April 26th, 2014
Visiting on April 26th? Check out our Open House activities celebrating the 75th Anniversary of the dedication of our 82-inch Otto Struve Telescope.
---
Buy Tickets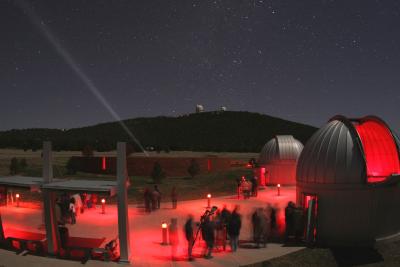 Visitors enjoying a star party at the Frank N. Bash Visitors Center at McDonald Observatory.