Visit the Observatory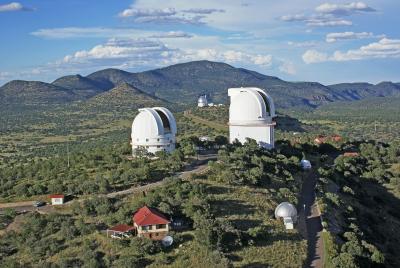 ---
McDonald Observatory closes to public through April 19th
The Frank N. Bash Visitors Center at the McDonald Observatory aims to inform, educate, and inspire the public. Our programs include daily tours of the large research telescopes, Star Parties under some of the darkest night skies in the continental United States, and Special Viewing Nights on some of the largest telescopes in the world routinely available for public observational programs.
The Visitors Center is your starting point for all public programs. Inside, exhibits explain what astronomers do at the observatory. The Visitors Center also includes a theater, gift shop, and cafe.
The Visitors Center is open 10 a.m. to 5:30 p.m. everyday except Thanksgiving, Christmas, & New Year's Days. On Star Party nights (Tuesdays, Fridays, & Saturdays), the StarDate Cafe stays open from 10 a.m. to roughly 15 minutes prior to the end of the Star Party program. The remainder of the Center closes at 5:30 p.m. and re-opens approximately 30 minutes prior to the Twilight Program. The Gift Shop opens an hour prior to the Star Party. Star Parties are roughly 2 hours long programs.
All programs are subject to capacity limits. To ensure program participation, make advance reservations online.
K-12 Teachers: Bring your class to the observatory for an educational and inspiring Student Field Experience.
---
Important:
McDonald Observatory, part of the University of Texas at Austin, is located 450 miles west of Austin and is on Central Time.
Firearms: As a University of Texas campus, the Observatory grounds are "concealed carry" only.
Pet Policy:  As much as most of us would love to welcome our four-legged furry friends, UT policy, in accordance with the State Attorney's General Office, does not allow pets (including emotional, comfort, etc., therapy/support animals) in Observatory buildings or at indoor or outdoor public program venues. In accordance with federal regulations, trained service animals accompanying their handlers/owners are welcome.
---