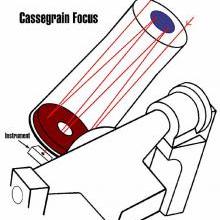 Light from the primary mirror is reflected by a secondary mirror to an instument attached to the telescope through a hole in the primary mirror. The Cassegrain Spectrograph (ES2) is a spectrometer constructed by the Boller and Chivens company and used on the Otto Struve 2.1-m telescope at the Cassegrain focus. The spectrograph offers low to medium resolution with resolving power of 600-2,500 over the wavelength range from 0.3 to 1.1 micrometers.
ES2 is a classic spectrometer. Light comes into the telescope, onto the primary mirror, and is reflected by the secondary mirror down to the Cassegrain focus. Within the spectrograph, the light passes through the slit, is collimated (made parallel) by reflecting off a parabolic mirror, and, then is reflected by the diffraction grating (i.e., a dispersing element) into the light's spectrum over ES2's wavelength range. This spectrum of light is then focused by a set of lenses onto the charged coupled device (CCD), either the TI1 or CC1. The TI1 CCD is used for the blue region of the spectrum (i.e. shorter wavelengths), and the CC1 CCD observes the red region (longer wavelengths).
As with most spectrometers, ES2 has both spatial and spectral coverage. The instrument measures the spectrum of light from a particular source so it has spectral coverage. However, the instrument also measures the spectrum of light from different regions in the source. That is, it has spatial coverage; slits for ES2 range from 0.5 to 120 arcseconds. Consider that an astronomer may want to observe some extended source in search of emission from oxygen atoms. The astronomers will want spectral coverage so that they can determine the nature of the emission, but they will also want spatial coverage so that they can determine which regions of the object have, for example, oxygen atoms at the proper temperature to emit radiation.