Jobs & Volunteering
Positions Currently Available
Superintendent
The University of Texas McDonald Observatory seeks highly qualified and strongly motivated applicants for the position of Superintendent of the McDonald Observatory. The position primarily involves management and oversight of operations at McDonald Observatory, located near Ft. Davis, Texas. The Observatory consists of four optical telescopes (2.7m, 2.1m, 0.9m and 0.76m) along with several tenant telescopes. The Observatory also hosts the 9.2m Hobby-Eberly Telescope (HET). These telescopes feature a wide range of state-of-the-art instrumentation for imaging and spectroscopy in the optical and infrared. The qualified applicant will lead a staff of approximately 50 employees who operate and maintain the telescopes and associated instrumentation, physical plant facilities, visiting astronomer dormitory, and public outreach facilities. The successful applicant will be expected to reside on site in McDonald Observatory housing.
The Superintendent is in charge of operations at the west Texas site, including personnel management, oversight of observing support and physical plant operations, and coordination of technical operations; acts as the scientific and operational liaison between west Texas and staff on the Austin campus; interfaces with HET Site Manager and personnel; works with senior management to further the goals of the observatory as set forth by the Director and has a lead role in facility development and safety. The Superintendent reports to the McDonald Observatory Director at the University of Texas at Austin.
In addition, the Superintendent is expected to work with visiting officials and special visitors to the Observatory. The Observatory functions as a small community and the Superintendent is responsible for establishing an environment conducive to the mission of the Observatory, including maintaining resident morale and Observatory relations with the surrounding towns and communities.
Required qualifications include a Bachelors degree in science or engineering and at least 5 years of management experience. A Masters or Ph.D. in Astronomy or related technical discipline is preferred. Operational familiarity with advanced instrumentation, especially telescopes, is desirable, as is the ability to communicate with the public, the press, official visitors, governmental officials, and UT Austin officials.
Please submit a resume, a letter of interest, and list of three references to Dr. Taft Armandroff via The University of Texas at Austin Job Search web site.
This is a security sensitive position. Conviction verification conducted on applicant selected. THE UNIVERSITY OF TEXAS AT AUSTIN IS AN EQUAL OPPORTUNITY/AFFIRMATIVE ACTION EMPLOYER.
Volunteer Opportunities
The Public Observatory benefits greatly from volunteer support provided by area amateur astronomers. These individuals frequently bring their own telescopes to Star Parties in order to share striking views of the night sky with visitors to the Observatory.
On-site Amateur Astronomer Volunteers at the Frank N. Bash Visitors Center
Are you an experienced amateur astronomer looking for an opportunity to share your knowledge and experience with the public? Do you have an RV or travel trailer and the freedom to spend several weeks (or more) at a remote dark-sky site.
The University of Texas at Austin McDonald Observatory is looking for experienced amateur astronomers to serve as site-volunteers to support the Observatory's extensive public programs. The Observatory's Visitors Center plays host to approximately 60,000 visitors each year, many of whom participate in the Center's array of outreach activities. Site-volunteers will assist with both daytime and nighttime activities including guided tours, star parties, special viewing nights, and summer scout night programs as well as other special programs at other times of the year. In exchange for a four week (flexible), ≤ 20 hrs/wk (depending on time of year, up to 12 evening/night hours & up to 8 daytime hours) commitment and upon successful completion of the application process, the site-volunteer will be granted access to one of the Observatory's RV sites (full hook-ups, etc., provided.) Other restrictions apply. Background check required. Greatest needs are typically through the month of March with our Spring Break crowds and late May through August during traditional summer vacation months.
For more information, please contact Frank Cianciolo, Visitors Center manager (frankc @ utexas . edu (remove the spaces), 432-426-4152).
Additional Volunteer Opportunities
The Frank N. Bash Visitor Center at McDonald Observatory offers volunteer opportunities to individuals interested in astronomy and/or education. The greatest need for volunteers has been during our public star parties at busy times of the year. We have several telescopes that we use for our public programs including a 16" Meade LX200, 22" Classical Cassegrain, 22" Dobsonian and several Celestron and Meade 8" Schmidt Cassegrains. Training is provided. If you would like more information please contact the Visitors Center through the Volunteer Coordinator or call us at 432-426-3640 and ask for Shannon Rudine.
See also: Outreach volunteer opportunities in Austin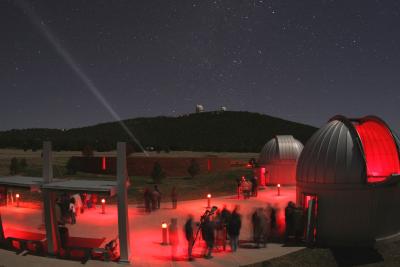 Visitors enjoying a star party at the Frank N. Bash Visitors Center at McDonald Observatory.