Betelgeuse Orion Newsletter - Winter 2015
The members of the Orion Circle and Orion Supernova play a key role in McDonald Observatory's work in K-12 science education and outreach in Texas and the U.S. and receive special invitation to the annual Orion Festival at McDonald Observatory in West Texas.
Director's Message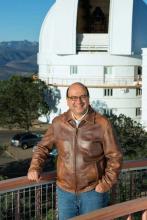 Since the publication of the last newsletter, work in the Observatory's core areas has been ongoing and includes great progress toward two of the Observatory's most important research initiatives:
Seeing first light on the Giant Magellan Telescope (GMT) in the next seven years, and launching the world's most comprehensive study of dark energy through the Hobby-Eberly Telescope Dark Energy Experiment (HETDEX).
The HET is in the final stages of being re-commissioned for HETDEX, and Texas astronomers look to early 2016 as the date when they will begin employing the telescope to measure the expansion of the universe and how this expansion rate has changed with time. With regard to the GMT, the project team recently completed a rigorous set of design reviews and is preparing to enter the project's construction phase. Given the extraordinary science this telescope will be capable of -- it will be larger than any telescope in existence today and will allow astronomers to observe the first generation of stars and galaxies after the Big Bang -- it's no wonder that the Giant Magellan Telescope is already compelling to K-12 audiences.
Sandra Preston, assistant director for Education and Outreach, will represent McDonald Observatory in late March at the first U.S.-Chile Astronomy Education and Outreach Summit. The goal of the Summit is to expand collaborations with Chileans and U.S. observatories in Chile to support education and outreach for the future Giant Magellan Telescope. McDonald Observatory's work to bring a GMT workshop to science educators last summer was the first bit of education and outreach done by GMT partners, and we look forward to the opportunities to grow this and other efforts in the coming years.
New Superintendent
In West Texas and in Austin, Observatory staff members welcomed Craig Nance as the new superintendent. Craig was formerly at the University of Arizona as director of Mount Graham International Observatory and served as operations engineering manager at Keck Observatory. From 1997 to 2000, he worked at McDonald and became the facility manager for the HET. He brings with him a love of astronomy and McDonald Observatory, and valuable experience in engineering and management. Craig replaces Tom Barnes, who served in the post from 2010 to 2014, and Steve Bramlett, who kindly served as the interim superintendent during the end of 2014.
Supporting the National Research Council
This past fall, Texas astronomers responded to a call by the National Research Council to provide input on a number of different astronomy topics to help shape the future of astronomy in the U.S.  The papers are online and cover many facets of McDonald Observatory's present and future instrumentation, training, and software development. It was a pleasure for me to write about telescopes and instrumentation at the Observatory, particularly as we look toward the future of astronomy research and the many doors that instruments like the HET and GMT will open.
All of the above — the work that occurs daily at the visitors center, and the outstanding effort being deployed to develop world-class instrumentation — is thanks to the hard work of many talented individuals and generous supporters who believe in McDonald Observatory's future as much as I do. I look forward to sharing more news with you in the coming months, including at the 2015 Orion Festival – set for September 26, 2015. Your partnership and interest in our work is of great importance to our overall success. Thank you for contributing so richly to our mission.
Taft Armandroff, Director
Frank and Susan Bash Endowed Chair
Astronomy Day Programs Tap Into the International Year of Light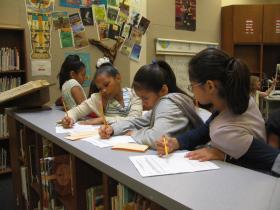 by Suzanne Geiger
Ask the staff at the Frank N. Bash Visitors Center about the best parts of their jobs, and the answer will inevitably include something about seeing people experience astronomy in a way that lights up their whole face and makes learning contagious. This is never more true than when they're talking about K-12 students who catch the joy of science, often for the first time.
It's with this goal in mind that the Observatory conducts the Astronomy Day videoconference programs to students in Texas, the U.S., and worldwide. Though they are delivered remotely, they involve hands-on inquiry which students perform in the classroom — making them a hit with teachers and students both.
Funded in part by the Meyer Levy Charitable Foundation, the Astronomy Day videoconferences are in their 10th year and reach thousands of students annually. This past year, Education Specialist Marc Wetzel developed the videoconference broadcasts to contain content related to the International Year of Light, which was adopted by NASA and other astronomy institutions to be this year's astronomy theme. Through the programs, students virtually tour the 2.7- and 2.1-meter telescopes, make telescopic and solar observations, learn about solar features, and conduct a hands-on activity to put an experience to the information taught.
Last year, more than 13,000 K-12 students nationwide connected with the Observatory through Astronomy Day. This included students from 17 of Texas's 20 Education Service Centers. According to Wetzel, after students participate in an Astronomy Day program about the sun, they are more likely to draw a sun from then on according to its scientific features, which include things like sunspots and prominences. "The Astronomy Day program is so fantastic," Wetzel said, "because it really encourages students to think like a scientist and to view the world through that lens."
He added, "By connecting to an actual astronomical research facility, we give them a real-world experience that encourages higher-level thinking in all of their classes."
Engaging Educators to Affect Change in Student Learning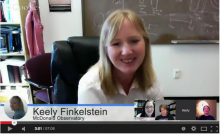 by Keely Finkelstein
Each summer and fall I get the chance to meet with teachers and bring them the best resources we have for teaching astronomy and space science in the classroom. In the summer months, educators attend McDonald Observatory on-site Professional-Development Teacher Workshops and enter a learning environment that enables their true immersion in science. In the fall, we participate in the Conference for the Advancement of Science Teaching (CAST), held annually in cities around Texas. Presenting at CAST allows McDonald Observatory to reach more teachers than we can reach on site (100% more!), and it allows participants from the summer workshops to gain more experience with science by helping us facilitate the CAST workshops for other teachers.
This past November, CAST was held in Dallas. As in years past, the conference drew thousands of science teachers who were hungry for science activities and resources. McDonald Observatory's presence at CAST is always welcome, particularly as we blend STEM curricula with the research that McDonald and UT scientists accomplish through NASA, NSF, and other research grants. This year Marc Wetzel and I presented four shortened teacher workshops to 200 K-12 teachers.
Just as Marc tied in the 2015 International Year of Light into his Astronomy Day videoconferences, teachers also attended a workshop on spectroscopy that was themed to the International Year of Light. In one activity, we showed teachers how to make a simple spectroscope to study different light sources. In a workshop titled, "Worlds Beyond Our Solar System," teachers learned about how astronomers detect exoplanets. Another workshop we offered was "Star Dust: Linking Distant Galaxies to Us."
Given the popularity of the Giant Magellan Telescope workshop that we offered on-site at the Observatory last summer (and will conduct again this summer, thanks to partial funding by the GMT Organization), we brought a shortened form of this workshop to CAST teachers, too.
The science that GMT will be capable of is ground-breaking. Engaging teachers and students in that level of science education is ground-breaking as well. One teacher who responded to a GMT post-workshop evaluation, said, "I will discuss and use cosmic time to introduce dark matter and dark energy, and the GMT [to my students]." As an astronomer, hearing that a teacher will instruct students in cosmic time and dark energy, etc. is music to my ears.
We hope to post the GMT conference activities online so students and teachers can learn about the telescope while it is under construction. Toward this end, I recently led teachers through a presentation on K-12 science education and the GMT at a Google Hangout sponsored by Learning Space. This, too, was a great opportunity to help science teachers across the country get a better understanding of ways that real-life astronomy research is applicable to students in the classroom. Teachers who have come into contact with McDonald Observatory walk away with a greater cache of resources and understanding. We hear that time and again in post-workshop evaluations and in the way that students engage with science through our programs. That, too, is music to my ears.
Save the Date: 2015 Orion Festival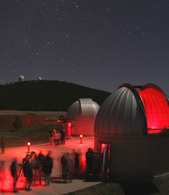 The 2015 Orion Festival is scheduled for Saturday, September 26th. Because of the position and phase of the moon at this time, the 2015 festival will present a fine opportunity the following evening to be in West Texas to observe the total lunar eclipse.
Please consider this extra (informal) viewing opportunity when making your travel plans.
To stay at the Astronomers Lodge or for other questions, please contact Suzanne Geiger by e-mail or by telephone at 512-475-8843. As in years past, activities for the festival will begin in the early afternoon and will include dinner, followed by a nighttime viewing.