Dark Skies Fest Photo Workshop
Join us during the Dark Skies Festival on Friday April 29th, 2022, for a special astrophotography workshop under the starry skies at McDonald Observatory!
This beginner-level workshop will explain the basics of how to take photos of the night sky, including camera settings, focusing at night, and navigating the night sky. The workshop is limited to 14 participants to ensure everyone has adequate time to ask questions and learn at their own pace.
Tickets are $75 per person. Half of the proceeds will go to the International Dark Sky Association and half will go to McDonald Observatory's Dark Skies Initiative, both to support light pollution awareness and mitigation.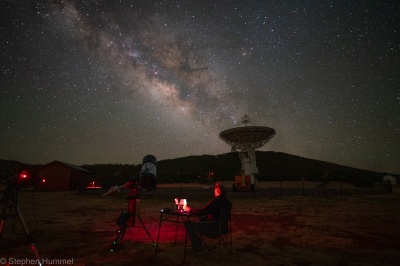 Visitor with telescope at McDonald Observatory, Stephen Hummel
Schedule
Arrive earlier in the day to attend other events during the Dark Skies Festival! Note that this program overlaps the Star Party on April 29th. It is not possible to attend both programs. 
7:00-8:00pm: Introductory presentation in the indoor theater at the Frank N Bash Visitor's Center
8:00-9:00pm: Break and/or setup time
9:00-11:15pm: Workshop outdoors near the Visitor's Center
In the event of poor weather, outdoor portions of the program may be cancelled or moved indoors. 
What to Bring
Attendees are expected to bring their own equipment. 
Camera (DSLR, Mirrorless, or other dedicated camera- sorry, no smart phones!)
Camera Lens (a wide-angle lens [50mm or less] is recommended)
Tripod
Light jacket
Equipment such as telescopes, tracking mounts, and other astronomy photo gear will not be covered as part of the workshop, but you are welcome to bring them if preferred. 
During the workshop, lights will be kept to a minimum to avoid interfering with other photographers and stargazing. Red flashlights will be provided. No flash photography or "light painting" will be permitted.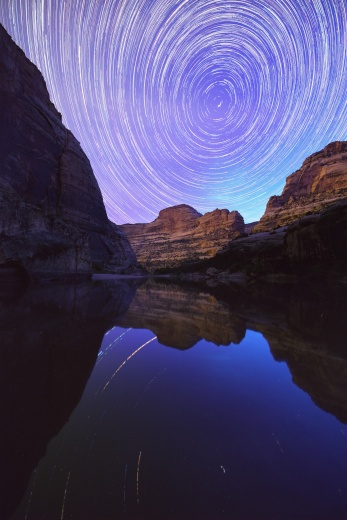 Yampa River Star Trail, Bettymaya Foott (Colorado, USA)
About the Instructors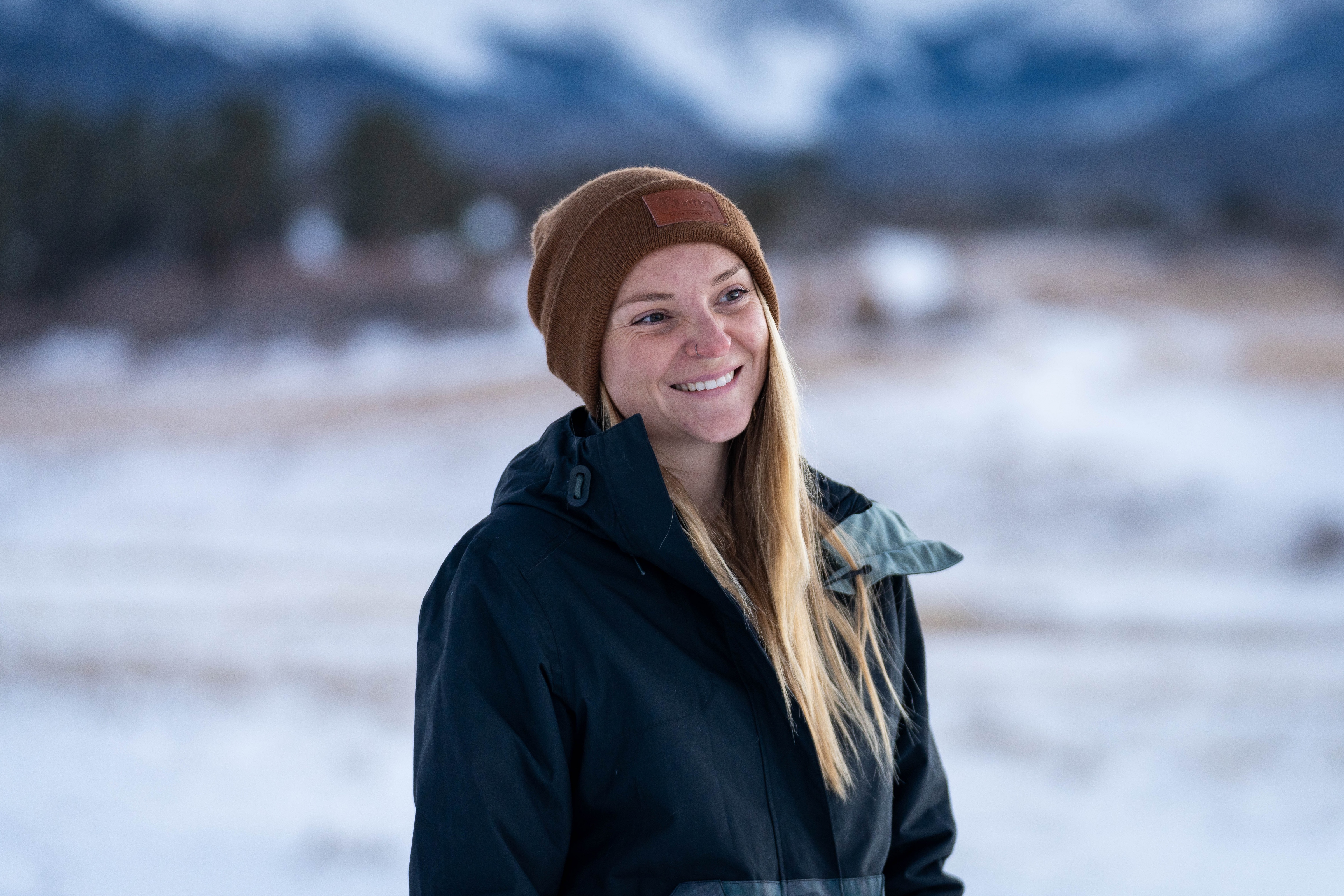 Bettymaya Foott grew up in picturesque Moab, Utah. Spending summer nights sleeping on the family trampoline under the stars, she fostered an early appreciation for the night sky. Her childhood was filled with hiking, camping, boating, and wandering in the desert, both below the hot sun and under clear dark skies. She graduated from the University of Utah Honors Program with an H.B.S. in Environmental and Sustainability Studies and a Minor in Spanish Language and wrote a thesis entitled "Light pollution hazards within ecosystems and mitigation strategies for the future." Her dark sky career began with working for Utah State Parks as a Dark Sky Intern and then seasonal employee, starting 12 International Dark-Sky Park Applications across the state. She then worked as Coordinator for the Colorado Plateau Dark Sky Cooperative and the Consortium for Dark Sky Studies at the University of Utah. Now, she is incredibly excited to join the team at IDA as Director of Engagement. When off the clock, Foott loves to practice night sky photography. Preserving dark skies is her life goal and she is incredibly excited to continue this journey of saving the stars!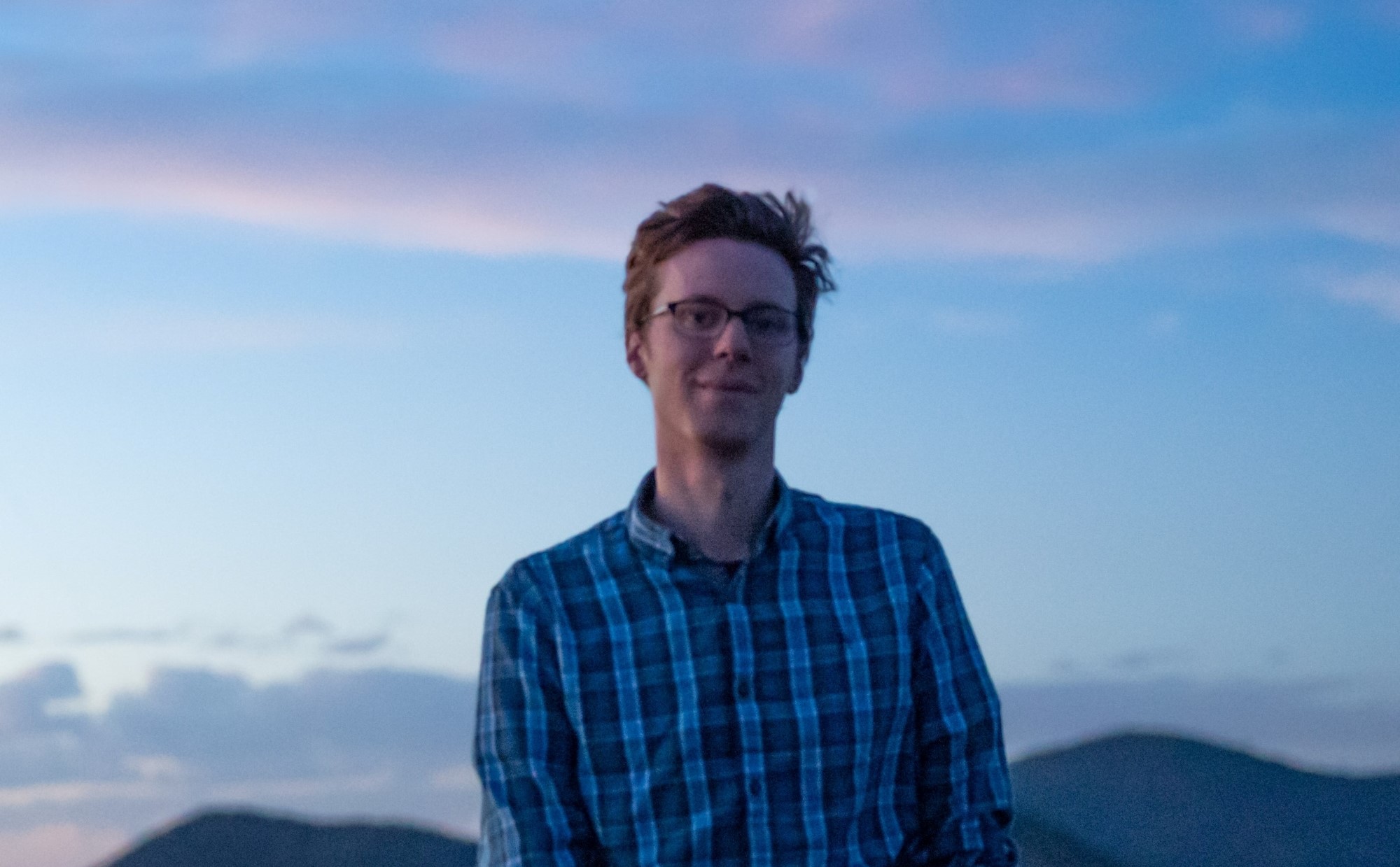 Stephen Hummel grew up under the bright city lights of Dallas, Texas, but fell in love with the dark skies of far west Texas during childhood trips to the region. As Dark Skies Initiative Coordinator at McDonald Observatory, Stephen works with surrounding communities and businesses in the region to help protect the night sky. In his spare time he loves to photograph faraway galaxies and nebulae in telescopes, or hunt for elusive red sprites above thunderstorms.