Advanced Astrophotography Workshop
Access to the Observatory grounds is ONLY allowed for visitors with reserved passes. All access requires advance reservations, which are subject to capacity limits. 
---
May 14-16, 2021
Are you ready to take your photography to the next level? In this 3-night workshop, you will learn how to create stunning nightscape images, capture rare and fleeting red sprites, and use large telescopes to create deep images of galaxies millions of light years away. You'll learn from experienced imager and Dark Skies Specialist Stephen Hummel, and astrophotographer Matt Dieterich, Technical Services Manager for PlaneWave Instruments. Not only will you have the chance to explore the night sky under the dark, clear skies at McDonald Observatory, but you will also have exclusive access to the latest telescope technology from PlaneWave Instruments. 
This workshop is designed for astrophotographers who have already mastered the basics of photography and are familiar with tracking stars, stacking, taking wide-field images at night, and the basics of how a telescope operates.
In this workshop, you will learn:
How to create wide-field panoramic and composite images
How to create blended, smooth star trails and timelapses 
How to find and photograph sprites and other Transient Luminous Events (TLEs)
How to set up a telescope and associated hardware & software for imaging
How to calibrate and post-process deep sky images in Photoshop and PixInsight
How to use narrowband filters and monochrome cameras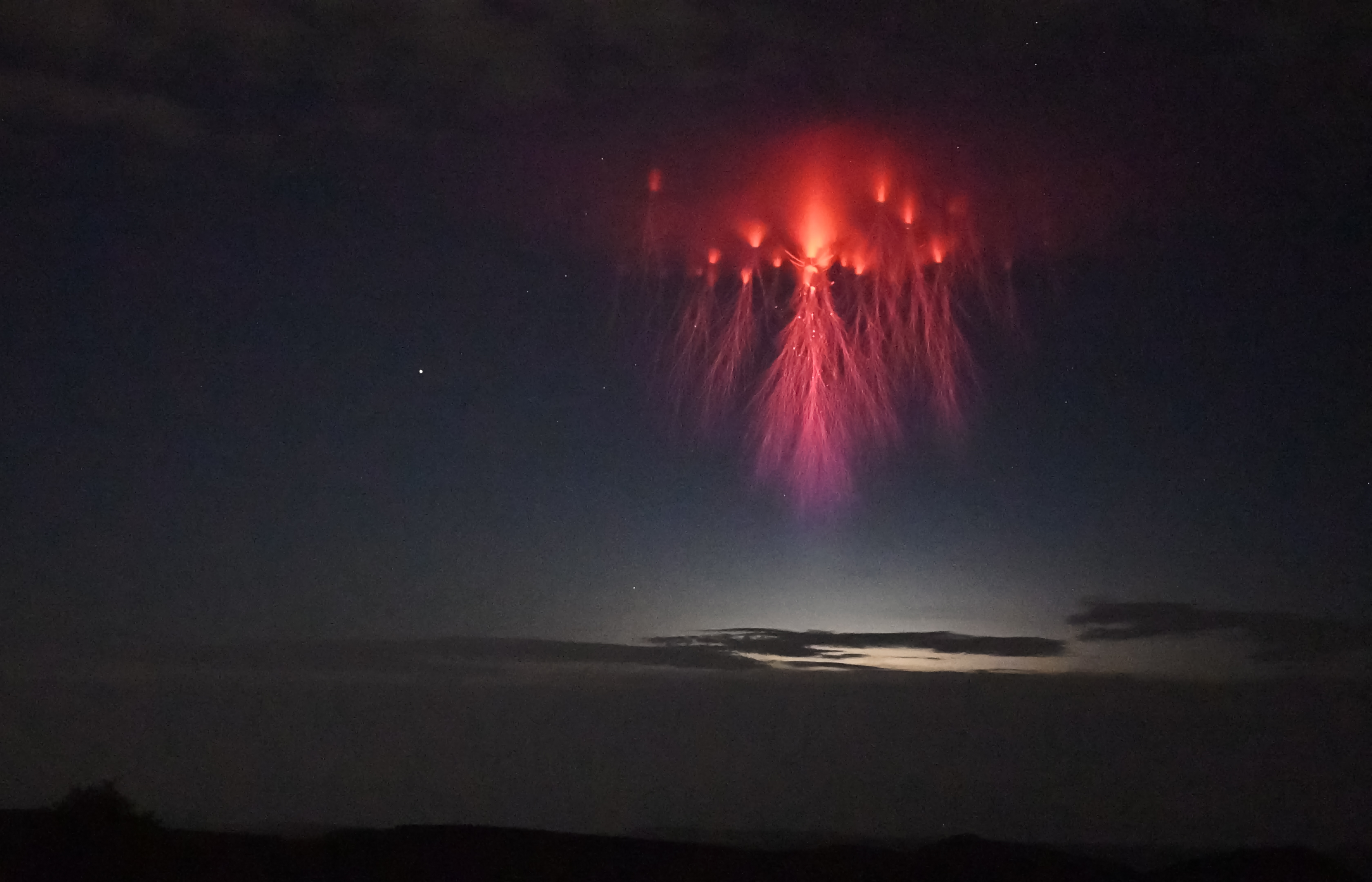 A large red sprite, as seen from McDonald Observatory (Stephen Hummel)
Details
You are expected to bring your own photography equipment to the workshop. Please see the list of equipment for details on what to bring.
In addition to your own equipment, instruction will be provided with a PlaneWave Delta Rho 350. This fast (F/3, 14-inch aperture) telescope system represents the latest in telescope technology, and attendees of the workshop will be among the first members of the public to use it! Lastly, several portable star trackers will be available for loan during periods of the workshop (tripod not supplied).

Plan to arrive at the Visitors Center before 5:00pm on May 14 to check in. After checking in at the Visitors Center, the majority of the workshop will take place outdoors on our Visitor Center patio, or on Mount Locke next to several of our large research telescopes. The summit has fantastic views of the surrounding mountains and terrain. 

While outdoors at night, there will be very low levels of illumination to preserve our dark skies and night adaptation. No white lights or camera flash will be permitted outdoors, especially around the research telescopes. Note that the summit of Mount Locke not only is an active research area, but also a residential area. All participants are expected to be respectful of the rules and instructions set by staff members.

Dinner will be provided each night. Please let us know of any dietary restrictions in the comments section when purchasing your registration below. 

This program is not suitable for children under 13, and minors under 18 must be accompanied by an adult with a ticket.
Minimum Equipment Requirements
Attendees must bring these devices in order to participate in the workshop.
•    Laptop with access to Adobe Creative Cloud Photoshop and Lightroom (free trial at Adobe.com)
•    Tripod, the sturdier the better. A ballhead mount is preferred.
•    DSLR or mirrorless digital camera and lens, or dedicated astronomy camera (Sorry, a cell phone camera won't be enough)
•    Batteries for your camera and a charger.
•    Memory card(s) and a card reader or USB cable to retrieve pictures from your camera.
In the event of poor weather, portions of the workshop may be rescheduled or cancelled. In the event that poor weather or other circumstances result in a cancellation of the entire program, you will be notified as far in advance ahead of time as possible and refunded. Historically, May is one of the clearest times of year at McDonald Observatory. 
Friday, May 14th

4:00pm: Check-in Opens (Visitors Center)

5:00pm: Introduction, Wide-Field Imaging

6:00pm: Dinner Break

6:45pm: Timelapses and Blended Star Trails

7:45pm: Break

8:00pm: Sprites and TLEs

8:45pm - Midnight: One-on-one instruction and shooting on Mt. Locke 

Saturday, May 15th

4:00pm: Check-in Opens

5:00pm: Post-processing wide field

6:00pm: Dinner Break

6:45pm: Post-processing wide field continued

7:45pm: Break

8:00pm: Telescope Hardware & Software

8:45pm - Midnight: One-on-one instruction and shooting in field 

Sunday, May 16th

4:00pm: Check-in Opens

5:00pm: Post-Processing Deep Sky 

6:00pm: Dinner Break

6:45pm: Post-Processing Deep Sky continued

7:45pm: Break

8:00pm: Narrowband Imaging

8:45pm- Midnight: One-on-one instruction and shooting in field