Catching Supernovae on the Fly
Sometimes events happen in the night sky that astronomers can't predict. Phenomena like supernova explosions or gamma-ray bursts occur in random parts of the sky at irregular times, making them very difficult to observe. But it can be done!
Because we don't know when or where they are going to happen, it's impossible for observatories to schedule time for astronomers to study them. Instead, scientists who study supernovae or gamma-ray bursts ask for what's called "Target of Opportunity" time on their telescope of choice. If a seemingly new object, like a supernova, appears in the sky, the astronomer who happens to be at the telescope at the time is asked to stop their own research in favor of observing the new object.
Astronomers like J. Craig Wheeler do much of their observing with Target of Opportunity time. Craig studies both supernovae and gamma ray bursts. As primarily a theorist, Craig himself never observes at McDonald Observatory -- the astronomers already at the Observatory make the observations.
This year, Craig and his colleagues have a Target of Opportunity project on the Hobby-Eberly Telescope (HET) to study supernovae, those exploding stars that can give off more light than entire galaxies.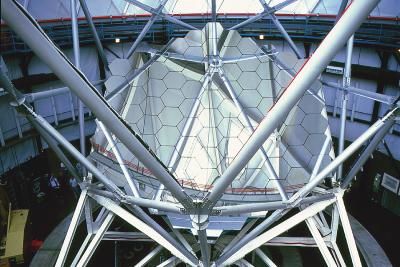 The primary mirror of the Hobby-Eberly Telescope (HET) at McDonald Observatory. The mirror is made up of 91 segments, and has an effective aperture of 9.2 meters. Credit: Marty Harris/McDonald Observatory
Astronomer
Telescope
Instruments