Astronomy Gift Shop
Gifts
Ceramic Kaleidoscope
Beautiful ceramic body with silver metal end pieces. Kaleidoscope has a colored liquid filled end piece to give the most spectacular color show.
$31.95
Map of the Heavens Puzzle
Andreas Cellarius (c. 1596-1665) Map of the Heavens Puzzle 25 x 20 inches 1000 pieces.
$18.95
McDonald Observatory Logo Mug
Black ceramic mug with our blue and white star trails and mountains logo on both sides.
$9.95
McDonald Observatory Logo Travel Mug
Our star trail over mountains logo with the wording McDonald Observatory Fort Davis, Texas printed in silver on blue plastic stainless steel lined travel mug with black plastic handle.
$11.95
McDonald Observatory Ornament
Brass ornament with etched renditions of the HET, Harlan J. Smith 107", and Otto Struve 82" telescopes. With McDonald Observatory at the top and Fort Davis, TX at the bottom. Oval shaped with black ribbon for hanging.
$19.95
The Planets Puzzle
The Planets Puzzle 19 1/4 x 26 5/8 inches 1000 piece puzzle.
$25.95
Kids' Kosmos
About Space
We Both Read About Space by Jana Carson for Grade level 1 to 2.
Introducing the easiest and most enjoyable way to help and encourage children to read! The unique We Both Read format is designed to allow parents and children to share the reading of a book by taking turns reading aloud. Parents read the more complex text and storyline on the left-hand pages and children read the right-had pages, which feature text written at a specific early reading level. Developed with reading education specialist, this delightful reading series brings parents and children together for a wonderful new reading experience and faster reading development.
This revised edition provides exciting new information and spectacular photographs of planets, moons, stars and galaxies. The International Space Station, the new category of dwarf planets, and how astronauts live in space are just some of the topics covered in this book that is sure to be popular with adults and children alike.
$4.99
Night Sky Puzzle
Night Sky Puzzle 24 x 18 inches 48 pieces. Ages 4 and up.Discover the Night SkyThe night sky is an important link to our past. When we look into the sky, we are able to see what our ancestons saw hundreds, even thousands of years ago. Preserving our view of the night sky is important for people as well as for animals. In areas where efforts are made to reduce nighttime light pollution, it is possible to see 10,000-15,000 stars compared to only about 500 in cities with many ourdoor lights.
$14.95
Solar System Floor Puzzle
Solar System Floor Puzzle by Melissa & Doug
48"Easy Clean" Jumbo Pieces
Puzzle measures 2 x 3 feet
$12.99
Solar System Placemat and Drinking Bottle Set
Fun bright colorful kid friendly solar system design on a placemat and drinking bottle. Fun solar system facts around the edge of the placemat.
$13.95
There's No Place Like Space
All about our solar system. I'm the Cat in the Hat, and we're off to have fun. We'll visit the planets, the stars, and the sun!
$8.99
Stargazing Gear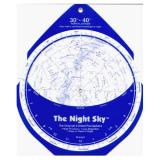 Night Sky Dial
Locate constellations and prominent binocular objects all year round with the Chandler night sky dial. Works for latitudes between 30 and 40 degrees, which includes most of the United States.
$11.95
Outdoor Floodlight Shields
Parshields® Glare Visors prevent glare and improve visibility. These IDA-approved dark-sky friendly fixtures redirect light that would be wasted toward useful directions and reduce light trespass so your lights don't annoy your neighbors. They also reduce sky glow by preventing up-light. Contents: Two shields (5 1/2"x5 1/2"x5 1/2", reusable, powder coated, all metal construction), instructions and light pollution information. Bulbs and fixtures are not included. For use with PAR 38 Type outdoor floodlights with 4 3/4" rim.
$25.00
Peterson Field Guide Stars and Planets
The fourth edition of this must-have field guide has been completely updated to include the latest astronomical information. All time sensitive material is now valid through 2014. Newly revised color Monthly Sky Maps and Atlas Charts by Wil Tirion show what you'll see in the entire sky, and new photographs picture the Leonid meteor shower, Comet Hale-Bopp, and more.
$19.00
Starry Night Enthusiast
Starry Night Enthusiast version 6.0 gives you the power to navigate around the night sky for a rich, rewarding stargazing experience. Take control of your explorations of stars,nebulae and galaxies. Dive into the interactive, multimeda SkyGuide for fascinating science and history of your sightseeing destinations. Breathtaking realism and a new spaceship mode put you in the pilot's seat for an adventure of a lifetime. Blast off from anywhere on Earth to freely explore 700 million light years of space from your desktop. (Windows and Mac compatible).
$79.95
Starry Night Pro
Stunningly realistic, Starry Night Pro version 6.0 immerses you in the wonders of the universe. A new layer of over 100 interactive,multimedia tours reveal the fascinating science and history of stars, providing a deeper understanding of the universe. An elegant, easy-to-use interface lets you quickly tap into a new and improved suite of features. All the tools you need - SkyCalendar, computerized telescope control, observation planner and logs, customizable equipment list, built-in ephemeris generator, printable 180-degree star charts - are at your fingertips. Powerful and fast, this program with access to 500 million stars and 1 million galaxies is a feast for your senses and fuel for your imagination. (Windows and Mac compatible).
$149.95
Stellarscope
This portable planetarium puts the stars within reach from Alaska to New Zealand. Use alone or with binoculars. Durable and lightweight, comes with LED keychain flashlight to preserve your dark-adapted vision while observing.
$48.95
Books for Adults
Backyard Guide To The Night Sky
Foreward by Sandy Wood Radio Host of "StarDate" A clear night, plenty of stars, and National Geographic's "Backyard Guide to the Night Sky" are the perfect combination to start a lifelong appreciation of the wonders of the heavens. With an expert yet easygoing approach, this little volume is packed full of information that illuminates key astronomical concepts alongside the history and legends surrounding the stars and planets, Ten chapters cover everything you'll need to know to begin--from safely observing an eclipse, to picking Mars out of a lineup, to using star charts to identify constellations and their stars. Practical tips cover how equipment can enhance your experience and how to take night sky photographs.
$21.95
Cosmic Menagerie
Cosmic Menagerie A Visual Journey Through The Universe by Mark A. Garlick. Explore the wonders of the Universe, beginning with our Solar System before traveling deep into space. This spectacular visual journey features many never-before-photographed cosmological phenomena, objects, and features, including: a feeble and dim red dwarf star with a volcanic planet in close attendance; a black hole surrounded by a swirling pancake of gas; Proxima Centauri, as it might appear from the surface of a nearby world; a double-lobed planetary nebula that looks like a celestial butterfly; and much more. Dr. Mark A. Garlick's awe-inspiring illustrations and expert narrative give remarkable insight into every major type og planet, star, nebula, and galaxy, bringing the mysteries of space into beautiful focus.
$24.95
McDonald Observatory Guidebook
Our new 36-page guidebook covers all aspects of McDonald Observatory, from the telescopes to the community, from history to today's research projects. Makes a great keepsake.
$5.95
Origins
Fourteen Billion Years of Cosmic Evolution by Neil deGrasse Tyson and Donald Goldsmith Our true origins are not just human, or even terrestrial, but in fact cosmic. Drawing on recent scientific breakthroughs and the current cross-pollination among geology, biology, astrophysics, and cosmology, "Origins" explains the soul-stirring leaps in our understanding of the cosmos. From the first image of a galaxy birth to Spirit Rover's exploration of Mars, to the discovery of water on one of Jupiter's moons, coauthors Neil deGrasse Tyson and Donald Goldsmith conduct a galvanizing tour of the cosmos with clarity and exuberance.
$19.95
Space: A Visual Encyclopedia
Space: a visual encyclopedia reveals everything you need to know about the universe. Hundreds of stunning images combine with illuminating descriptions to transport you to the depths of space. Discover the history of space travel, the latest information on space-faring countries, and exciting possibilities for future missions. Explore the solar system and the universe in incredible detail, encountering high-speed comets, extreme temperatures, and storms that rage for centuries. Then find out what it's like to be an astronaut, from space walks to keeping animals on board! Packed with facts, timelines, and world-class photography, this encyclopedia really brings outer space to life.
$24.99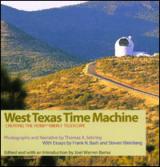 West Texas Time Machine
Creating the Hobby-Eberly Telescope. In vibrant color — the epic adventure of an astronomical scientific instrument. Learn about the inspiring design that made it possible and the feats of ingenious engineering and construction that made it a reality.
$16.95
Books for Kids
Exploring the Night Sky
Stargazing in the space age "Exploring the Night Sky" is a new guide to the stars aimed at novice stargazers amxious to expand their astronomical repertoires beyond the Big Dipper. Ideal for children, the book is "user Friendly, " offering a series of realistic nightsky illustrations to locate the major constellations.
$9.95
Home On The Moon
If you called the moon home, you'd probably... breathe air from rocks drive a moon rover to visit friends strap on wings and fly indoors for exercise, and vacation on the far side for a grand view of the universe. In "Home On The Moon", Marianne Dyson captures a new kind of frontier spirit, packs in the moon science, and gives us an exciting glimpse into our future on the moon.
$18.95
Professor Astro Cat's Frontiers of Space
Professor Astro Cat's Frontiers of Space by Dr. Dominic Walliman and Ben NewmanProfessor Astor is the smartest cat in the alley - so much so, that he's got a degree in just about any discipline under the Sun! Speaking of the Sun, he happens to be a specialist on that too. Professor Astro Cat's Frontiers of Space will tell you everything about our star, our planet, the solar system, our galaxy and the Universe that there could be to know. He's made sure of that - he's a fastidious little feline!
$24.00
The Stars
A book about the stars that a layman can understand and enjoy. H.A. Rey illustrates new outlines of the old constellations that make the complex talk of studying the starry sky considerably easier.
$12.99
Adult Clothing
Logo Hooded Sweatshirt
The McDonald Observatory Logos two black mountains with two different blue and white star trails above the mountains.  The wording McDonald Observatory Fort Davis, Texas at the bottom of the design. On a black Gildan brand hooded sweatshirt.
$34.95
Longhorn Stars Tee Shirt
Burnt orange t-shirt with the McDonald Observatory's 3 domes done in black and with the Longhorn done as stars in the night sky. Wording The University of Texas in script at bottom of the design.
$16.95
McDonald Observatory Logo Cap
Denim cap with the McDonald Observatory Fort Davis, Texas mountains and star trails logo stitched patch style on front of cap.
$24.95
McDonald Observatory Logo T-Shirt
The McDonald Observatory Logo two black mountains with two different blue and white star trails above the mountains. The wording McDonald Observatory Fort Davis, Texas at the bottom of the design. On a black Gildan Softstyle 100% cotton t-shirt.
$16.95
Shooting Star Spectrum Cap
Garment washed black cap with shooting star and spectrum stitched above the wording McDonald Observatory. Fort Davis, Texas is stitched on the back of the cap.
$17.95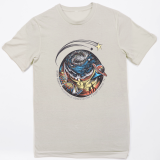 Star Party Tee Shirt
Our colorful unique Star Party design on a silver gray Canvas brand soft style t-shirt.
$16.95
Children's Clothing
Longhorn Stars Kids Tee Shirt
Burnt orange t-shirt with the McDonald Observatory's 3 domes done in black with the Longhorn done as stars in the night sky. Wording The University of Texas in script at the bottom of the design.
$14.95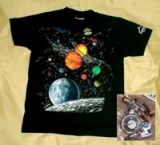 Space Glow T-shirt
Black shirt with the glow-in-the dark solar system. Size small comes with three snap-on space ships.
$17.95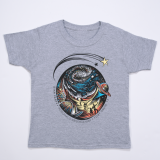 Star Party Kids Tee Shirt
Our colorful unique Star Party design on an athletic heather Jerzees brand t-shirt.
$14.95
Starry Night T-Shirt
Black 100% cotton t-shirt with colorful glow in the dark renditions of the constellations and the wording Starry Night at the bottom. The McDonald Observatory mountain star trails logo is printed in white on the left sleeve.
$17.95
Infant/Toddler Clothing
Future Star Gazer
Royal Blue t-shirt with 4 summer constellations on a black and purple background. Glows in the dark. Logo on left sleeve.
$10.95
Educational Activities
Earth:Lab Solar System
Earth:Lab Solar System A hands-on learning experience. Are you ready to become an astronomy expert? Solar System is packed with detailed diagrams, facts and photos from the deepest reaches of outer space. Learn about theSun and planets, asteriods and comets, and distant stars and galaxies on your journey through the universe. The exploration continues with a colorful solar system poster and stickers, glow-in-the-dark stars, and nine models of the Sun and planets to build!
$21.95
Inflatable Earth Ball
Explore our Wondrous Planet with this 16" diameter replica, the Original Orbis/NASA digital Globe. Global Handbook inside, full of education games, activities, and resources for further exploration and lots of fun! The Astronaut's View from Space-Created with NASA Satellite Photos. Cities Glow in the Dark!
$14.95
Solar Space Mobile
Solar Space Mobile 100% battery free eco learning. Perfect to play under the sunlight. Discover up and down movement of front shovel. Fastest moving solar kit Maximum speed up to 24 m/min. Ages 8+
$19.95
Solar Space Robot
Solar Space Robot 100% battery free learning eco learning. Perfectto play under the sunlight. Discover robotic arms work out. Ages 8+
$19.95
Solar System Planetarium Model
Assemble and paint your own planetarium model. Paint it and highlight it to create the glow effect. Watch the 30 cm model glow, its out of this world.
$9.95